Cool Links
Adam West, Batman ~ Cool '60's craze. TV's finest moment! Special guest villain, the late Frank Gorshin (the Riddler) was a genius. Chad & Jeremy performed "Teenage Failure" on an episode of Batman! Hopefully someday this tv show will be released on DVD.
The Byrds ~ Groovy LA-based group, the first group I ever dug.
Gene Clark will always be my favorite Byrd. He was a great songwriter and an ultra cool performer. Check out his singing in THE BIG T.N.T. SHOW if you need some convincing. Listen to the bonus tracks on the Mr. Tambourine Man CD. Wow!
All hipsters should have the Byrds' first 5 albums! Plus you should check out the Preflyte sessions for some must hear Gene Clark originals.
Roger McGuinn's swingin' webpage is here.
The Ronettes ~ Phil Spector's grooviest gals! You can't beat The Ronettes. Here's a great Spector discography. Phil took teen music and made it arty without losing its teen focus. Phil and Brian were the best at accomplishing this incredible feat.
P.F. Sloan Website ~ This site has a terrific Sloan discography! Forget Lennon/McCartney, Sloan/Barri are the guys songwriters should study.


Start off by getting the P.F. Sloan CD Child Of Our Times. It's filled with demos from '65-'67!!!!!! As far as I'm concerned, P.F.Sloan is the greatest songwriter of the '60s! In the mid '60s his songs were all of high quality and spanned across a variety of COOL musical styles, from girl-group to garage, surf to psychedelic pop! He is the best folk rock songwriter ever!!! Sloan also has one of the most intense & desperate vocal styles ever! Here's an interview. Wikipedia's Sloan page.
P.F. is playing a few dates this summer so catch him if you can!
Sailover is the NEW Sloan album!
Ed "Big Daddy" Roth ~ The late Ed Roth created Rat Fink and the coolest cars ever designed. Big Daddy dug the Beach Boys!!! There is some new movie about Ed Roth coming out in 2006.
Varese Sarabande ~ This label gives us P.F.Sloan's Trousdale demos! The Nino & April CD All Strung Out is really great Sectoresque mid 60's pop coolness! Let's hope they release more P.F. Sloan demos in the near future. Come on guys, we want more!
Media Matters For America ~ I've tried to avoid political stuff on these webpages but I have to say that I check out this website every day. It exposes the conservative agenda of the corporate media on a daily basis. It's great. See how America is constantly misinformed and misled by the media.
The theremin etherealized "Good Vibrations." The film THEREMIN: AN ELECTRONIC ODYSSEY is an enthralling look at the instrument and its creator, Leon Theremin. Brian Wilson is interviewed!
Okay, okay, on "GV" they actually used an electro-theremin which is also known as a tannerin, but the theremin is still the wildest.
This may seem weird, but I have to have a Gershwin site on here. My wife has described me as a "Gershwin nut" and it's true.
Like dig this book. Domenic Priore goes goatee.
Mad Cover Site ~ Everybody thought Brian was "mad" for doing Pet Sounds, "Good Vibrations," and SMiLE. Dig some more "mad" art at this groovy site. Be sure to check out the 1968 stuff!
Dig this cool Zen site and get a quick lesson in Zen practice!
Zen is really boring man!!!
Smiley Smile Dot Net ~ This is the site for cool SMiLE stuff! The Smiley Smile message board is the best Beach Boys/Brian Wilson/SMiLE forum.
THE SMiLE SHOP ~ This site has been updated and includes lots of psych stuff. Not exactly my cup of tea but maybe it's yours. There's still plenty of SMiLE material for the devoted. You can also check out the SMiLE Shop message board.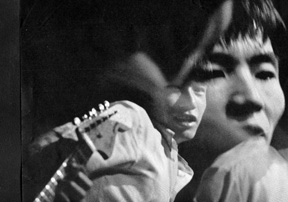 The Out-Of-Sight! SMiLE Site ~ A single page mind-blower from the folks that gave you the Zen Interpretation website. SMiLE turns out to really be a real album based upon a real person's real life experiences. Learn what the "Americana" stuff is REALLY documenting!!!
Spectropop ~ Cool Brill Building attitude toward music. Great stuff.
The Lama Reviews ~ Great website for the lowdown on the psychedelic scene. Remember, SMiLE was and IS part of this scene!

There is some Beach Boys, Brian Wilson, and Van Dyke Parks stuff on the RollingStone website.
Wikipedia ~ Neat SMiLE page built by the internet community. Add some stuff, make corrections, or just dig reading it.

Zig Zag Zen ~ This book explores the relationship between Buddhism & psychedelics. This may be a good read for those who doubt the basic premise of this website.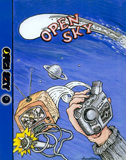 There is a new OPEN SKY DVD (yes, DVD!). Chris Allen travelled around interviewing Brian Wilson/Beach Boys related people like Fred Vail, Stephen Kalinich, Probyn Gregory along with a bunch of other musical folks. The interviews were filmed & this DVD is the result. Frank Holmes did the cover art. Contact Chris Allen for info.
The seventh installment of OPEN SKY is sort of a SMiLE issue. There's a monster interview with Peter Reum which shouldn't be missed, an interview with classy Margo Guryan, SMiLE Shop's Jon Hunt reviews GIOMH a la Lester Bangs, Chloe Cumming, Frank Holmes & Chris Allen all contribute artwork, and yours truly did an essay.
In its sixth issue Brian's band members (Mertens, Bennett, Walusco, Lizik, and Foskett) are interviewed as are Stephen Kalinich, Mark Linett and Brian's website's Michael deMartin. Topics include Brian's upcoming album and the SMiLE tour!
Issue number five had interesting articles and interviews. Melinda Wilson was interviewed!
The fourth OPEN SKY was a Dennis Wilson issue. Interviews with Stephen Kalinich, Andy Paley and Alan Boyd. There's a drummer Dennis article by Domenic Priore, and one by Dennis Diken.
The third issue is dedicated to Carl Wilson so there's lots of Carl stuff. There are also interviews with David Leaf, Jell Foskett & Wondermint Nick Walusko, David Sandler (who worked on the Spring LP) and lots more.
The second issue has interviews with Frank Holmes, Brian Wilson, and Wondermint Darian Sahanaja.
The first issue which has Smiley Smile stuff and interviews with Carol Kaye and Van Dyke Parks.
OPEN SKY is the coolest Beach Boys fanzine around!
For more information contact Chris Allen.
The group It's Only Roy (formerly Grown Men) recorded an original song in tribute to Carl Wilson titled "Gentle Soul (I Can Still Hear You)" back when Carl passed away. Check it out on their website. A Rick Bell song, "From Here To Eternity," is performed on Brian Setzer's Vavoom! CD.
Peter Lacey has been making nice Beach Boys/Beatles style sounds for years! There are interviews with Peter in the second, and also in the fourth, issues of OPEN SKY!
Paul Messis writes and performs original songs that may remind some of the mid-sixties garage style. I don't usually recommend current artists but think Paul Messis is worth checking out. Try out his videos here and here and you can order some of his stuff from 13 O'Clock here.
Neal Umphred has a blog which is well informed IMHO as is his ratherrarerecords site. Neal authored a bunch of Goldmine's Price Guides, various musical articles (including a great one on Brian Wilson in the late 80s), and he really knows his psychedelic music! He was cool enough to dig this website when it was uncool (like when was it ever cool?).
Unless stated otherwise, all of the books mentioned in The Zen
Interpretation, with the exception of Look! Listen! Vibrate! SMiLE! and Wouldn't It Be Nice, were originally published prior to 1967. For a bibliography, click on the books to the left. Most of the titles are available through online book stores.